Over the years, management experts have tried to find a relationship between leadership and intelligence, and the general consensus is that they are closely related.
Emotional intelligence plays a great role in maintaining positive relationships with people around you and being a successful leader. Successful leaders are known to be emotionally intelligent and often tend to have great relationships with the people working with them. When organizations look for potential leaders, emotional intelligence becomes a huge factor during selection.
But how are leadership and intelligence related? Let's find out.
Emotionally Intelligent Leaders are More Self-Aware
Emotional intelligence is often measured based on the level of self-awareness of our very own emotions. Understanding what causes our emotions and how we tend to react to them is a sign of a great leader.
Leaders who are emotionally intelligent know how team members react to different situations and how they deal with them. Leaders know how to capitalize on the strengths of their team, and it can only be possible if they have a deeper understanding of human emotion.
An intelligent employer understands the strengths and weaknesses of his team and can make his team click due to his self-awareness. If you want to become a successful leader, you need to be able to understand how you react to different situations, and it will allow you to know your team as well.
Intelligent Leaders Know How to Deviate Team Members to their Strengths
While any leader might be able to get projects completed within deadlines as a team, an intelligent leader does it efficiently by evaluating his team and identifying what their strengths are. Strategy is an important part of handling projects, and experienced managers know the skills of their team members well enough to know which roles need to be assigned to which team members and get the project done as efficiently as possible.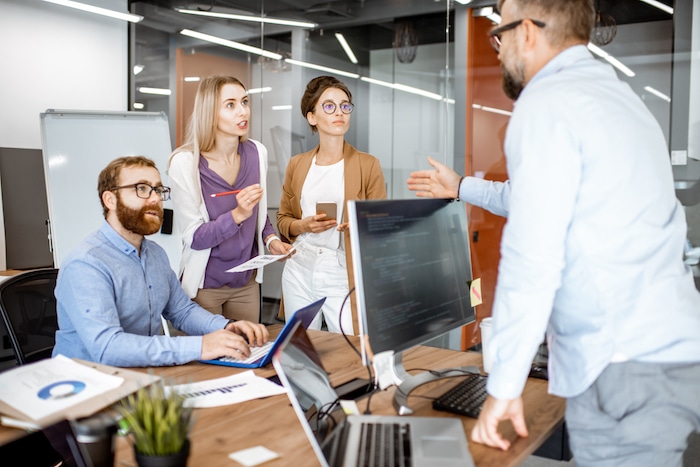 Intelligent Leaders Listen and Learn
Being a successful leader means you need to be able to listen to others and take in input from your team as well. Intelligent leaders not only try to comprehend how to get work done but also know how others are willing to strategize and plan accordingly. Leadership is the ability to lead an entire team or organization to success, and it is not a dictatorship.
Intelligence allows leaders to evaluate others' opinions and hypothetically place them into the plan and see if they fit in. Using valuable inputs that work out for the better often boosts employee morale and allows for better efficiency.
You also need to be able to communicate with them and discuss their ideas instead of putting them aside for evaluation later. There is a lot to learn from, and the learning process in an organization never ends. Leaders constantly adapt to new strategies and learn from others to develop their skills and also make people working with them tick as a team.
Intelligent Leaders Plan Ahead
Intelligence often leads to leaders knowing how certain strategies will work out and adjusting their plans accordingly. Damage control is necessary for any organization if leaders are able to anticipate impending failure or situations such as business closures. Intelligent leaders are honest. They let their team members know if things are not working out in an ideal manner. In such circumstances, rumors can spread quite quickly, and leaders need to be the first to break bad news and cool the situation down.
Intelligent Leaders Know How to Build Alliances
Not all team members are compatible with each other, and they might have contradicting philosophies. Making different people work on a common goal can only be possible by an effective and intelligent leader.
Communicating effectively and helping others achieve goals together for mutual benefit is a sign of a great leader, and it's the only way to make incompatible people work together. Helping team members build relationships and gel as a team should be one of the primary goals, which is what intelligent leaders do.
Intelligent Leaders Respect
With at least 100 fortune 500 CEOs from top B schools, it is important to understand that merely getting an MBA does not help much in becoming a great leader. Many of the top B-school graduates have cracked highly competitive exams. This instills a sense of superiority and pride in young MBA candidates, and they tend to ignore the experienced value leaders bring to the table.
Intelligent Leaders Motivate
As discussed earlier, intelligent leaders do not only get work done but get work done efficiently. Motivation at the workplace is important, and keeping everyone at work motivated is the biggest responsibility of any leader.
Understanding the needs of team members and what keeps them going at work is necessary if you want to be a successful leader. Each employee has his own set of values and principles, and understanding them and keeping them motivated so they keep performing is important.
These are some of the key relationships between leadership and intelligence, and there is a clear relationship between the two. It is necessary to make a leader responsible and effective.
---
Related Articles
---
How Does Intelligence Relate to Leadership?
If you have ideas you feel like sharing that might be helpful to readers, share them in the comments section below. Thanks!
Would you like to contribute a post?