Having your SMART goals and objectives defined and written requires vision and effective decision-making. While this may sound like a given, it's difficult to develop the necessary skills to get it done.
Building an effective strategy involves being able to differentiate and prioritize your aims, goals, targets, and objectives.
Here are three ways to start your journey:
1. Set Short-term and Long-term Goals
Goals are different from objectives in that the former is the bigger picture, the overarching end you want to achieve through several means. The latter, on the other hand, are more specific results you get from the goals you set. They're more concrete than abstract.
When it comes to setting goals, you need to think both long-term and short-term. A short-term goal would be something you can achieve in a relatively brief time span compared to a long-term one.
For instance, a short-term goal for team-building would be to establish rapport and open communication with each member. A long-term outlook in the same vein would be to mobilize these individuals and increase their synergy for increased productivity.
2. Look Forward to Achievable Objectives
Leaders need a more focused and specific mindset in envisioning what they want to achieve. That said, one of the most effective and popular identified ways to formulate achievable objectives is the SMART method.
The SMART method is an acronym that stands for Specific, Measurable, Attainable, Realistic, and Timely objectives.
Unlike goals, which seem far-off, SMART objectives focus on initiating action.
If you have a goal to "Improve team synergy" as an example. Using the SMART method, we break down its underlying objectives into the following:
Members must be able to work without supervision and turn in output fitting the company standards within the given deadline.
Established peer review should boost each individual's performance rather than promote competition.
Looking at these, you can see that the objectives that followed were very specific. Their progress could be observed through standards that had been pointed out in the same statements.
In the examples, the set standards were a team's ability to turn in acceptable output through a joint effort. As a leader, you can keep track of these visible markers when you reflect on your objectives.
3. Start Planning
Once you've determined your goals and objectives, it's time to develop a solid strategy. Among all three, this one needs to be the most specific and thought-out.
Fortunately, it's largely based on your objectives. You can further specify each point from there. Look at each objective and ask yourself, "How?"
Let's go back to the initial example of members achieving tasks efficiently with minimal supervision. Ask yourself how you get to that point.
In this situation, you can provide the following tactics:
Encourage authentic team relationships through team-building activities
Let them engage with each other's ideas through brainstorming sessions and meetings
Set the Bar High
Whether you're planning to start small or dream big, your primary function as a leader is to formulate a concrete working strategy. But make sure this comes after envisioning specific goals and objectives. Keep in mind that each one has to be believable and achievable.
Don't set the bar too high or too low. Gauge what is actually needed to achieve your goals when developing your plans. Download and use the SMART Goal Planning Worksheet to maximize your planning and tracking of your goals.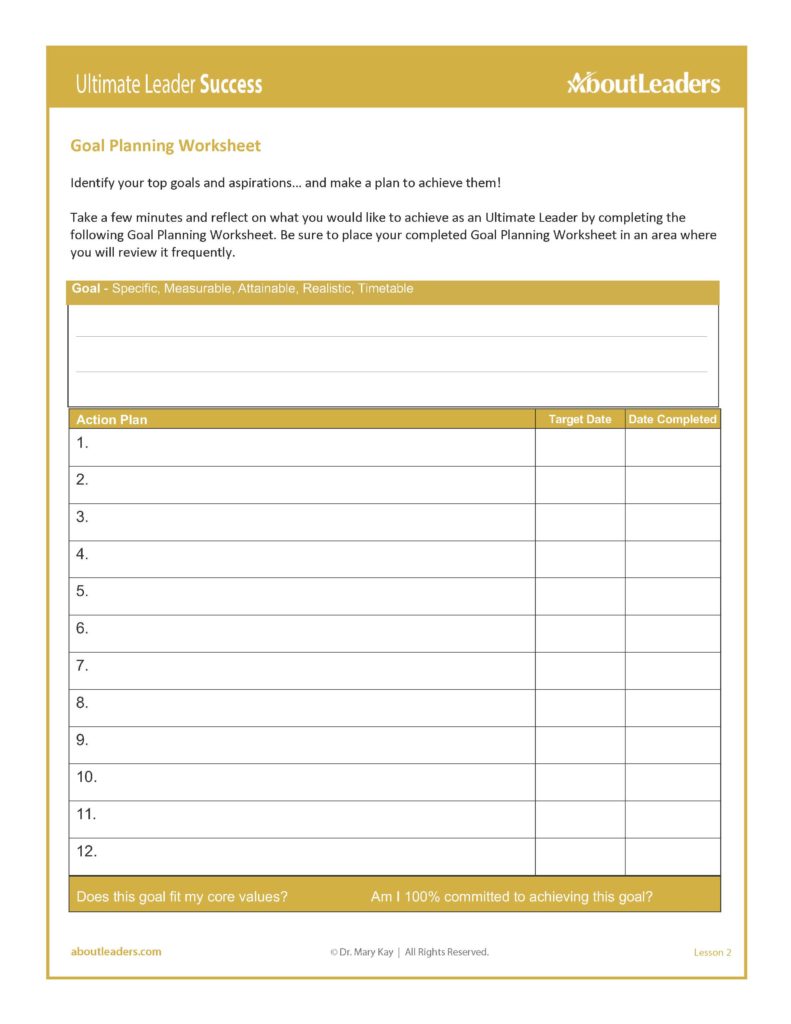 ---
Related Articles
---
How Do You Set Goals and Objectives?
If you have ideas that you feel like sharing that might be helpful to readers, share them in the comments section below. Thanks!
Would you like to contribute a post?